AQHA 2003 "SHARP PAIR OF GENES"
SOLD !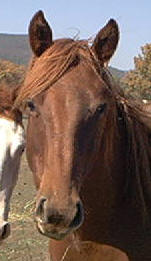 This colt is a Son of
TWO Brindle Parents
(pictured below) and we are hoping he will sire the
RARE BRINDLE COLOR
! Although he doesn't show the Brindle pattern, we were in hopes he would produce it on the right cross of mares.
His Dam is a Red Dun Brindle, Pictured below and his sire is the Gray Brindle below . This colt is the only ONE of Two foals known in the world with two Brindle parent crosses (his half brother is the other cross)