Standing at Stud
CLEVER LEE
(1993 Bay Overo Stallion)
$600.00 Stud Fee for 2008 - (Discounts for Locals call for pricing)
~ LCFG ~
for sale: Serious inquiries only, I will have him semen tested @ buyers expense, He has always settled mares on the first go round.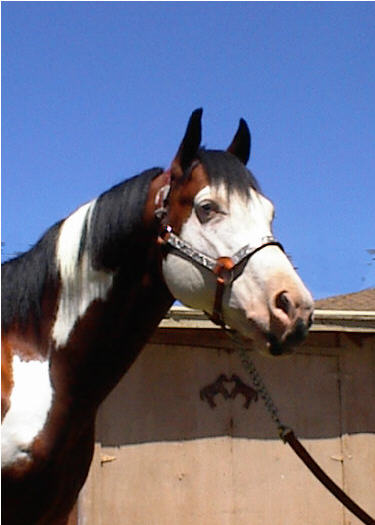 It's getting harder and harder to find the legendary pedigree that this stallion holds.
I have had several studs before but nothing like him.
You have to meet him to believe it, this Stallion has the BEST disposition you could ever ask for.
"Bubba" has sired some of the best babies I have ever raised. He continually sires foals with his awesome dispositions and conformations and they are such a pleasure to work with as he is.
"Bubba" Stand approx. 15.1 but don't let that fool you, his foals range from 15.1 to 16 hh as of to date and only being bred to mostly Quarter horses he puts a range of size on them.
He has also produced some very colorful babies, and he is about 95% color producer on Quarter horse and Paint mares.
CLEVER LEE has a very eye catching pedigree of a long line of Superior Champions, APHA Ch., Superior All Around, CH. Halter Horses to working horses he has the background to do it all.
He, has proven himself to me and others that he is a horse of many disciplines along with his foal crop.
"Bubba" is not just my best friend but also my partner at work, he was used as my Mounted Security horse for crowd control during the summer months for 5 years.
He is also my roping partner for fun. He likes the heels and I like to head, so one of us has to figure out the other end.....smiles...
You can put ANYONE on this stud with a piece of twine and ride him anywhere you want to go, even around mares. I have put a many kids on him, as young as 2 years old, he is a remarkable stallio, words can not say enough about him. He has always sold himself to the public, after they see I'm riding a stallion they can't believe it. He is a true a PUPPY DOG ! right now he is in 3 strands of barbless wire with mares surrounding his pen. He's never really been in hotwire but a few times. He's always just been good to handle and be around. You can breed him with a piece of twine as well. Tell him "UP" or "get off" and he will do it !