Black Overo at Stud "SONNY BAR NUGGET"
Standing at Stud
SONNY BAR NUGGET
(1996 Black Overo)
$600.00 Stud Fee for 2004
~ LCFG~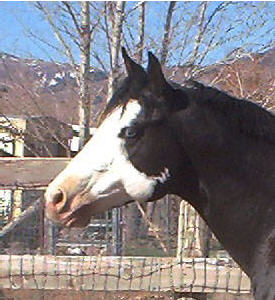 "Nugget" Has a wonderful disposition and conformation that will add wonderful assets to your foals. He has a baby doll head with nice short ears. nice neck, back, and hip.

He has very correct straight legs and good size bone.

His disposition is that of a gelding, very well behaved you can do anything with this guy. He is such a pleasure to be around & handle.




Nugget comes from a long line of performers and color producers.

Some are proven black producers as well.

He also has a line of world Champion producers like Sonny's Kidnap and Sonny Dee Bar on the sire side and Neon Nugget and Skippen Nugget on the Dam side.




NUGGET's Pedigree




Sonny Dee Bar

Sonnys Kidnap (Sorrel QH)

(Black QH) KIDNAP AMBER
(Black QH)

~Sire~ Sonny Bandi Bar
(black Overo) Anchor Bar Deck


(black Overo)




Bandi Bar Deck

(brown overo) Bandi Bar


(sorrel solid)

SONNY BAR NUGGET

Neon Nugget Skippen Nugget
(black overo) (red roan QH)

~Dam~ Miss Azure Nugget Majestic Bay Lady
(black solid) (bay QH)



Azure Pine

(bay jc)

Miss Azure Arrive
(black overo) Black Judy


(black solid)




2004 foals are arriving fast ! email for info and sale prices 2004 foals below: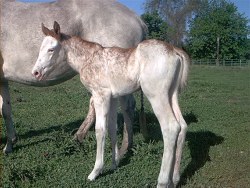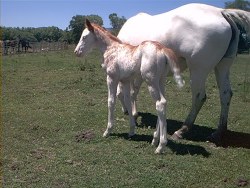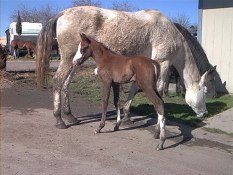 2004 Buckskin filly out of Buckskin mare 2004 colt out of Gray TB mare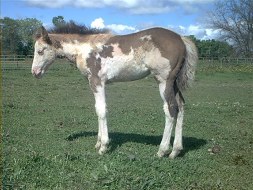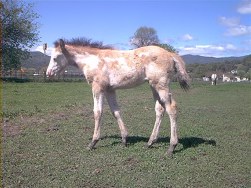 2004 buckskin pic on left 2 months - pic on right at 1 mo. old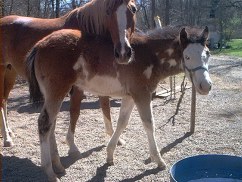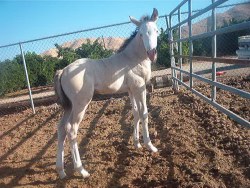 2004 3 mo. old bay overo out of QH - Buckskin overo filly out of Palo mare


some of Nuggets 2003 foals

filly is out of a Sorrel mare colt out of Black Overo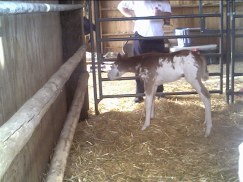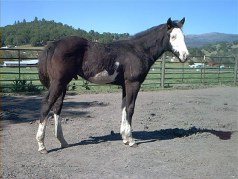 Palo colt out of Gray mare - Bay colt out of Sorrel
SOLD ! mare who has NEVER thrown
color !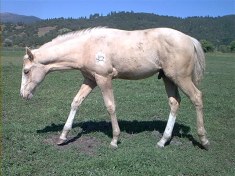 First Bay colt out of Chestnut
Mare -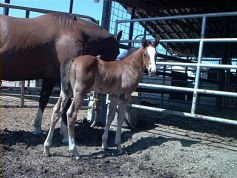 2001 foals below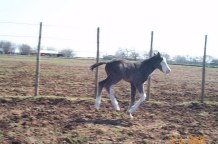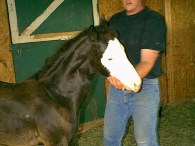 Black Overo Colt out of Sorrel QH mare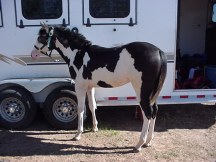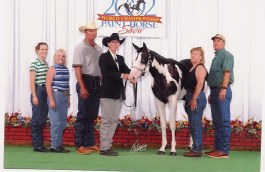 Black Overo out of Sorrel Overo in training now for Lounge Line and headed to 2002 World Show.!!!! UPDATE - he made it to the World show and placed 12th out of 44 entries in Lounge Line competition. He is a natural mover.!!



We got some COLOR this year !!!!!

you can see reference mares on the "Broodmare" page

And more color coming for 2003 already !!!


palomino overo colt out of Gray Appendix Black/White overo colt out of mare "Dandy" Black /White mare "GO GO"
both of these pic's taken at day one !!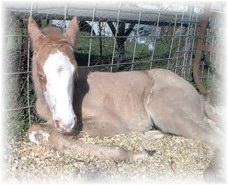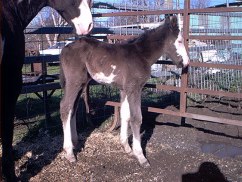 Solid black filly out of Palomino mare 2003 - last year same breeding they produced the solid buckskin pictured below.
pic at one day old this pic at 3 weeks old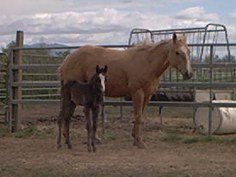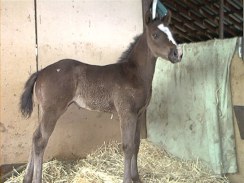 Buckskin Colt out of Palomino mare " Little Miss Cocoa Bar" BIG BLAZE nice build and very willing to please.
1 day old Pic taken July 2002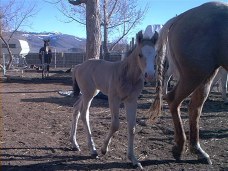 Black and white Tovero filly out of " GO SATIN " - what a chunk !! she is a cutie.
2 weeks almost 3 mo's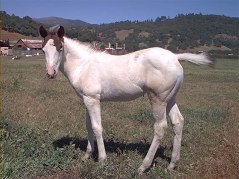 Red Dun and White colt out of Red Dun mare ---- Yearling pic below
4 months old below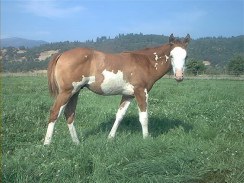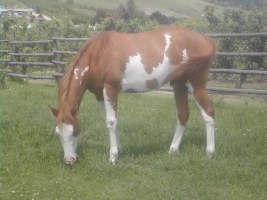 Black and White colt out of Sorrel and White - Daughter of ON ICE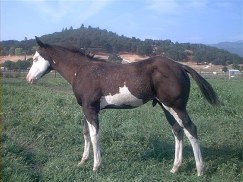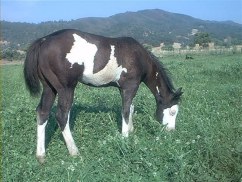 Pic at one year old.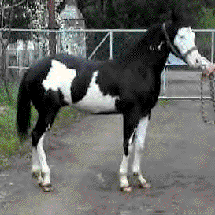 One of the youngest of the bunch and she is the BIGGEST !! Should shed out black out of Black Foundation bred mare. this filly is my "keeper" (-:
pic at one day old and and the other one at 3 1/2 mo. old