HORSES FOR SALE
We have a selection of horses for sale from all ages and disciplines..
Please email or call for more info and photos.
ATTENTION - Just added we now Accept PayPal, Visa, and Mastercard !!!
Payments ok dont be afraid to ask. We can work it out to where YOU can afford it.
| | | |
| --- | --- | --- |
| | • | Some of these horses below are located in Nevada, just outside of Reno. Possible meeting of for delivery. ALL PRICES are open to BEST OFFERS, unles stated. |
SOLD - THANKS to Jill & Levi
2004 SABINO Sorrel Colt. $5000.00
This colt is HUGE and Georgous ! he was the last one born and is as big as the first ones born a month older then him.
He is very correct and has tremendous amount of substance to him. His Sire and Dam are good sized and he should mature a easy 16hh. he is just 5 weeks on in these pic's
2004 Palomino Colt. $1200 as a gelding.
This colt appears to be a dark Palomino out of a APHA Chestnut mare with Barlink Macho Man and Docs Lynx breeding and his sire is my Perlino you can see on this site. He is going to be nice big build and good bone. I will update as he grows. I would say this colt is seriously stallion prospect he is put together very well and has very good substance to him. email about stallion price we can work something out.
Very easy to work with, leads, loads, ties. She is really bred pretty nice can send pedigree and pic's upon request. Double bred Mr Norflett and Sonny Dee Bar. She has nice straight legs and she will be built very BIG and square.
2004 Buckskin LOUD Overo Filly $4000
This filly is out of a Grandaughter of Smoken Cotten and out of a Stallion with MANY points and accomplishments. Her bottom side goes back to the famous Cutter Bill. This 2004 fillies sire is my Black Overo "Sonny Bar Nugget" you can see his page here on my site.
This filly is VERY agile, moves so fluently and graceful it's not funny. She loves to do roll backs, she will pivot her foot and do a 360 turn with ease, she loves to jump and just run with grace. more so then some of the other foals we have so far. Don't let this one pass you up for the show ring and later breeding.
"DAZZLE ZAN DELL" 2001 Show Prospect.
$3500.00 to show home only ! Do something with this filly and you can have her. She is by "Play It Again Zan" and out of a "Perfectly Bold X Bolds Top Chick, Mr Robin Boy, and Docs Pepper Chex mare. She is a nice mover and very well put together. Located in N. Ca.
UPDATE: Owner will consider Trade for this mare of a Nice QH Stallion prospect. No Sorrels or Palomino Please
APHA TB Cross 5 mo. old filly $800.00 b/o
ATTENTION Barrel racers !! Her mother had 5 wins and 3 2nds in the 8 times she was raced. Her sire is "Play It Again Zan". This filly has alot of leg and body substance as well. She does have a hernia that needs to be taken care of. Northern CA.
"SMOOTH ENOUGH" 2003 Flashy
Red Dun
Colt
This colt is bred to get the job done ! he is out of "Zans Yellow Crush" and his sire is "Silk Smooth" who has Smooth Town, Little town, Buzz Bar, Winken Wayne, Gray, etc. ALL ON his papers !! This colt has a really nice hindquarters, head, hip, shoulder and nice straight legs. He is BIG, BIG. Pic's don't do this colt justice. Located in Northern Ca.
2003 LOUD
Red Dun
APHA Overo Colt. $2500.00 b/o
This colt is also by Play It Again Zan" and out of "Annie Dun Skiped". He has a full brother and sister that have turned out 15.1 HH and they have the total HALTER Horse BULK. If your looking for a colt that will have a VERY THICK build with alot of substance this is your guy ! Northern CA.
NICE filly, Yellow Mount, Mardelle Dixon, Piper Cub, Peace Pipe, My Painted Robin bloodlines, $3,500 for her. She has a full sister to this filly (see below)this years model, Looks just like her, only blue eyes - Located in NV.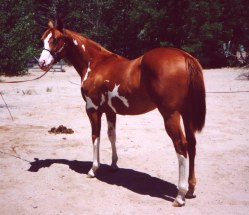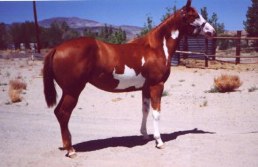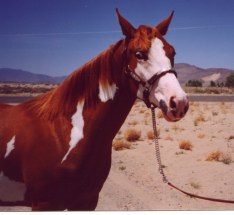 This is her full sister below and she is for $3000 b/o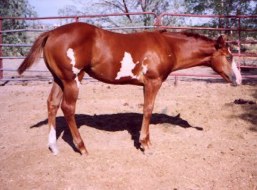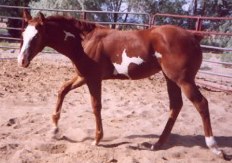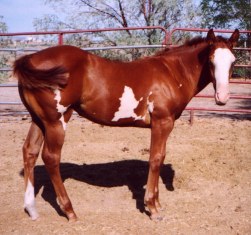 "SOMEBODY LUCKY " APHA TOVERO STALLION 1993

PRICE REDUCED !!! to $5,500.00


EXCELLENT Heel horse, very smooth to ride on the trail, extremely quiet well behaved stallion, almost anyone can ride this horse .
he was started on ranch work and now a EXCELLENT heel horse in the arena. Jericho has a very light rein and could do alot more than "just" roping like team penning, calf roping, WP etc. He is GREAT on the trail and has nice gaits, with a natural level head set that would take you in the WP show ring easily. He is quiet around other horses, easy to handle and be around. This stallion is truely remarkable that he can and is willing to go any direction you want him to go. He is a solid, good sized bone, sound stallion broke for your working and plesaure needs and ready to work for you and produce some nice babies like him. Not only is he broke to death and sound he is SON OF LUCKY STRAW APHA Supreme Champion LUCKY STRAW who has proved himself over and over such as Halter, performance arena, on the track, has ROM's in 6 events, also Superior Halter Horse who has been awarded 47 Grands and Reserve Championships and Honor Roll Performance.
and he is a son of SCRIBBLES TRINKET who is own daughter of SCRIBBLES - Superior All-Around Champion. Not much more you could ask for in a stallion $ 6,500.00 b/o located in NV. mailto: jmrodeogal@cs.com