I just thought I would post on my site about me selling my Stallion SONNY BAR NUGGET to LISA JAGGERS of CHINO, CA.
Agreement below is what we both signed. She had such a fit about me holding the papers until he was gelded that I thought I would be a NICE PERSON and send them to her as she had done everything else we had talked about. Once she got the stallion she got a notice saying he was still a intact stallion to APHA and took NEW PHOTOS and submitted them to APHA and he is now in her name as a STALLION !. Mind you on the papers I marked the date she said he was to be gelded on and marked him as a "Gelding" , which obviously she had changed.
Her reasoning was that he was lame, I have proof of a vet check done by a vet here paid by ME ! all was cleared. Lisa claims she has kept him a stallion to try and re-coop some of her money loss... She never got a vet check, and as you can see she signed the contract and agreed on him in this form. She made VERY clear to me that she had NO INTENTIONS on having a stallion, and didn't want a stallion for any reason. Guess she just lied all the way around. I was very honest with her and told her everything I knew about the stud, I had never done x-rays on him to not know any different of what she found with x-rays. Hence the reason for getting a vet check, that's what they are for ! Sellers and Buyers are not professional vet's to make any diagnoses.
"Sale Price" and actual "Purchase Price" she got a better price on him due to her PROMISE of gelding him.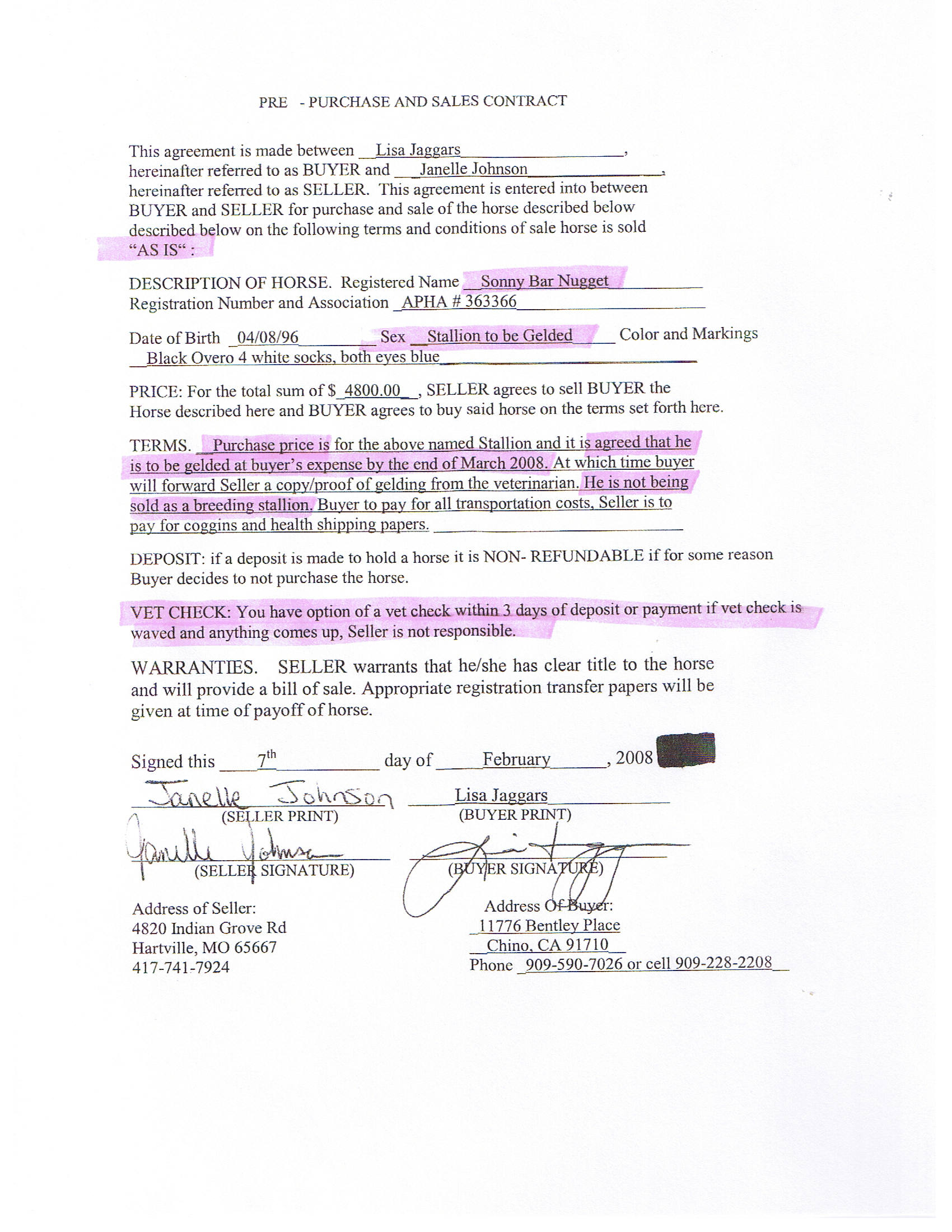 SONNY BAR NUGGET
1996 Black Overo Stallion
**SHORT TERM OFFERING FOR SALE $7,000**
Might take offer to GOOD HOME ONLY!

"Nugget" has turned out to be a WONDERFUL stud. He is now considered a finished barrel horse, been hauled to local 4D barrel races and behaves like an old timer gentlemen where ever he goes. Would say he never really "Loved" barrel racing but when put on cows he really got into that. He is now being used for team roping and doing well but not finished. He is very quiet in the box, rates well, scores nice and has more heart to chase cattle then barrels. He has also been used to do some mounted shooting events and has no problem with guns or being shot off of. He is great for gathering cattle in the hills, he will drive through the thickest brush with no questions asked. He has packed small calves on his back. Stood there for the calve to be thrown up on the saddle along with rider.
Total gentleman when it comes time to breed. You can breed him with a piece of twine or nothing for that fact, just tell him to "WAIT" and he will wait until you give him the OK. He is a EXCELLENT color producer on paint and solid mares.
He really is a all around good guy and the only reason he is for sale is I am changing my breeding program and paints are being liquidated for the most part. I guarantee this guy to be sound for riding and/or breeding. He is one of my main riding horses and joy to boot.
"Nugget" Has a wonderful disposition and conformation that will add wonderful assets to your foals. He has a baby doll head with nice short ears. nice neck, back, and hip. He has very correct straight legs and good size bone.
His disposition is that of a gelding, very well behaved you can do anything with this guy. He is such a pleasure to be around & handle.