JUSTA DRUMIN UP WAR
2001 A.P.H.A. Homozygous Stud
SALE PENDING - Will be standing in Reno, NV area for 2007
"Skip"
2001 Brown Homozygous Stud
100% Color Producer on Any mare
2006 Stud fee $600.00 - Local residents call for pricing
This stud has really come a long way. When he first came here he had no clue as to what to expect He has now settled in like the rest and is now being ridden. He has some of the smoothest gaits I have ever been on and SO EAGER to learn and VERY SMART it's not funny. He has a great mind, so easy to handle it's not funny.
He has nice big bone, and a great build on him.
He comes from the lines of the well known stallion Dixie War Drum, one of the first all time black tobiano favorites. He also has the highly promoted grand sire Obsessed To Impress, which is a World Champion, 3x reserve World Champion with over 750 halter points and 159 Grand Champions and 37 Reserve Grand Champions.
His pedigree is loaded with ROM earners, Many World Champions, from Halter horses to performance, trail, roping, English, Superior horses and many with tons of Reserve Grand Championships all ON his pedigree, to many to list. His pedigree says they can do it all click on his picture above for his pedigree and more pic's.
His breeding fee includes Tobiano mares as well, so breed your Tobiano mare to him and maybe get a homozygous baby !!
He comes from a good working line and also has some halter horses on his top side as well. He is out of a mare that has TB on her very bottom of her ped so he should produce some height, speed and agility as well.
As all the stallions we own, you are more then welcome to come visit with them, and get a feel for their dispositions. This guy is mellow just like the rest of them.
CLICK HERE for his EXTENDED PEDIGREE



Skip By Impress
Obsessed To Impress
Skip To The Drum Our Annie Robin

Dixie War Drum
Dixie Valentine
Eternal Mistress

2001 - Justa Drumin Up War

Billy Bud
Dixie War Drum
Dixie Doll
Cleverly Dun

Fury's Treasure
Ever Clever
Huachuca Choo Choo
Foal pic's below. Anyone who has baby pictures from this stallion please email them. I have not received many foal pic's from this Stallion. - THANKS
2005 Black & White colt below .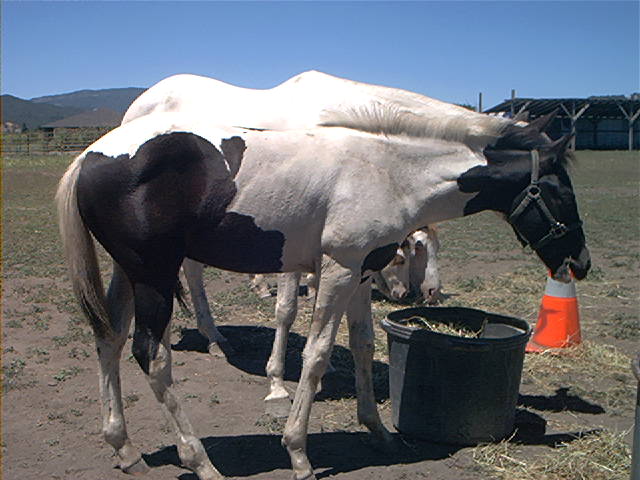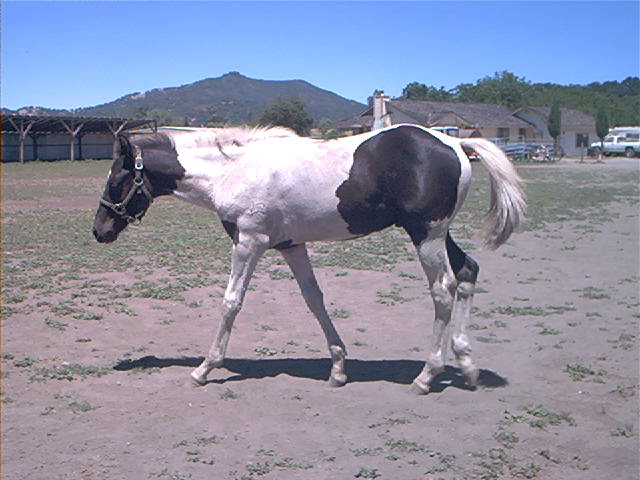 This one had a long day and decided to come in and take a nap on the couch.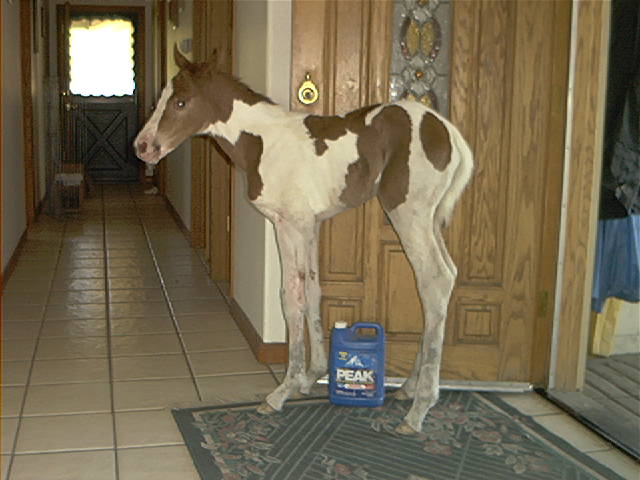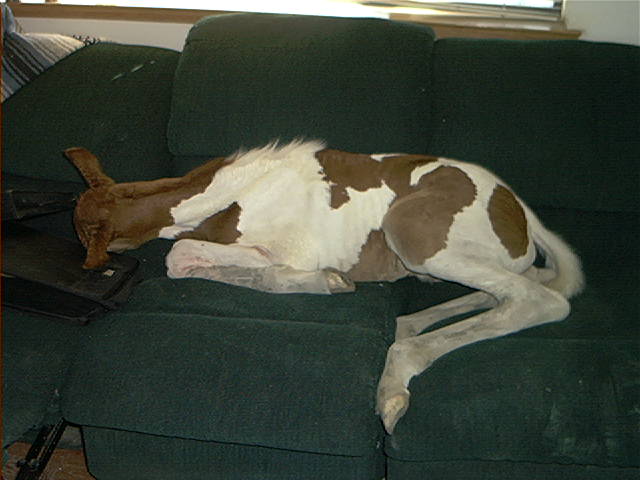 Not quite a year old in the pic's below working with his owner Jessica.......I think they look GREAT together !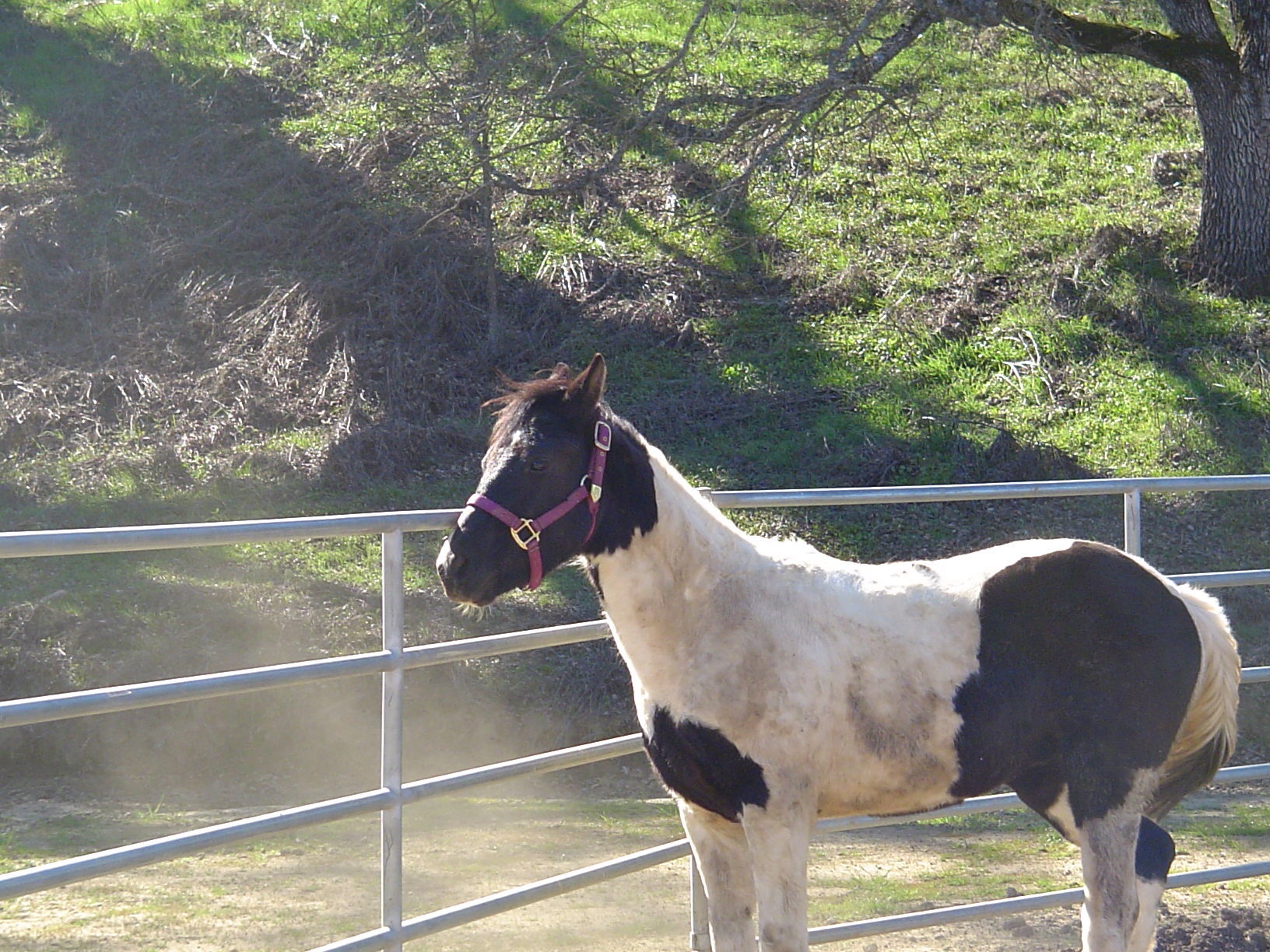 a few special words from her dad
"I tell people about where we got dancer every day that I can. When it came time to add him to our lives you walked in with something that helped us meet that need and fix it, you allowed us to make payments on a life long dream to own an American Paint Horse one that has power, grace and movement to this hearted Indian father thus he was named dancer one of dances to the drum beat of Jessica's heart. Thank you again"
Brown and white 2006 filly below out of TB mare